Pastor Scott Frady
Pastor of Teaching/Discipleship
Scott grew up in Charlotte, NC. Christ saved him when he was 15 years old. Scott is a graduate of Columbia Bible College and Seminary (B.A. 1992, M.A. 1999). He served in China from 1994-1997. Scott taught Bible in public schools from 1999-2005. In 2005, Scott moved to Hickory to serve at West Hickory Baptist Church. Scott has been married to his wife Cindy since 1992. They have four children, Jeremy, Joy, Sara and Timothy. Cindy is a gifted teacher of children and a great blessing to the entire church.
Pastor Rob Kaylor
Pastor of Families and Students
Rob is a graduate of Liberty University and has expressed a desire to serve the Lord through working with children, youth and their families. Christ saved him in 1982 at the age of six. At the age of nineteen he would answer God's call on his life to the ministry. Rob and his wife Jana have been married for 11 years and have a daughter, Gracie. Rob enjoys spending time with his girls and loves everything Star Wars and Boston Red Sox. Rob serves as Pastor to Families with a focus on ministering to children, youth and families and the community.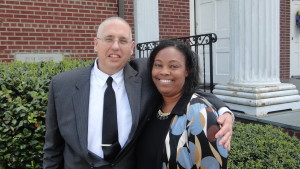 Pastor Terry Dickerson
Pastor of Evangelism and Outreach
Terry is a graduate of West Lenoir Baptist Ministry School and has expressed a desire to serve the Lord through Evangelism and the sharing of the gospel to a lost and dying world. He was saved by grace in 1996. He served with the NC Army National Guard where he met his wife Feleshia. They have been married for 12 years and have two sons, Darius and Dayton. Terry serves as the Pastor of Evangelism and Outreach.
Jim Dellinger
Music Director
Jim is an accomplished musician who has served for decades as Music Director in a variety of churches. He has been at West Hickory since 2000. Jim's wife Elizabeth is our church organist. Jim's talents as a director help make our weekly worship meaningful and our Christmas and Easter programs wonderful gifts to the community.