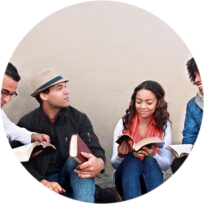 Student Ministries
The teenage years are so difficult for many families. The pressures of society and cul
ture push daily against a Christian worldview. WHBC Student Ministry exists to help parents raise their teens to be lifelong followers of Jesus.
We currently offer Sunday school with excellent and godly teachers to help your children know and love Jesus.
We are also currently involved in an intergenerational study of Proverbs with children and adults called "Wisdom Calls Aloud." This study brings all ages of the church together to learn the way of wisdom. See www.truth78.org for more details.
Throughout the year students participate in activities that promote fellowship and fun as well as those that build a spirit of selflessness and service.
The highlight of the year for our Student Ministry is summer camp at Garden City Chapel
https://www.gardencitychapel.com/
. Joining with several other churches, our students enjoy a week of camp at the beach where they learn to follow Jesus more deeply in daily life.