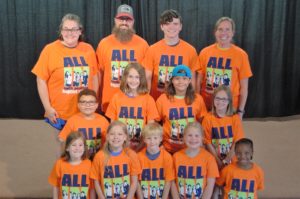 The Children's Ministry at West Hickory Baptist Church is for ages birth through 6th grade and involve the following…
Sunday School:
Sunday School begins at 9:30AM and we have classes available for nursery, preschool-K, 1st-3rd, 4th-6th grades.
Sunday night's bring at 6:00PM and offers Preschool Choir and Children's Choir. We also have classes for preschool and children in grades 1-6 that includes a Bible lesson, games and fun!
Children's Camp:
Every summer children in grades 1-6 have the opportunity to attend South Mountain Baptist Camp for one week during the summer. This is always an exciting time for the kids as they have the opportunity to hear the gospel, grow closer to Christ and participate in activities and games during the week. If you are interested in having your child go to camp please contact Pastor Rob Kaylor.
Be sure to sign-up for Children's Camp 2022!